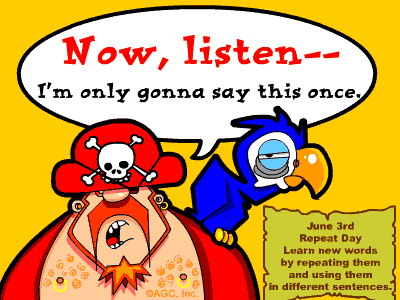 Okay folks, it's time to announce another Fun & Wacky Contest.
TODAY, June 3, is Repeat Day!!!
Repeat Day is an opportunity to do things over and over again. Repeat Day is an opportunity to do things over and over again. (hee, hee)
Hopefully you will choose to repeat things you enjoy doing. Pick a wide array of foods, snacks, and activities, and repeat them today. As a matter of fact, it's perfectly okay to repeat them over and over again today. It's also perfectly okay to avoid doing things you don't like. It's a certainty that you will not enjoy distasteful things the second time around.
I'm seeking photos, funny stories about repetitive habits, silly blog entries, and more that relate to Repeat Day. Come back here and post a comment with the link to your blog post that tells me all about what you chose to repeat, or avoided repeating. Don't wait too long, this is a short-lived, fast moving contest. It starts right now and ends at NOON on Tuesday, June 10, 2008! I will choose one very lucky winner who will get to choose 4 bars of my awesome soap! (Your skin will thank you!) Please keep entries family friendly. Spotted Cow Soaps reserves the right to exclude any questionable entries.
One more twist in this contest...you can only enter the contest once. But, since this is Repeat Day, you have the opportunity to earn bonus entries by exercising some repetitive keyboard motions. Simply said, anyone you send to my blog to participate in the contest should mention you sent them over. Every person that mentions your name with their participation in the contest you will earn an extra bonus entry in the contest. The more people you send to participate, the more chances you will earn. Let the Repeat Day fun begin!